General Store in Everglades City, FL
Stop by Win-Car Inc Gifts and Hardware to stock up on supplies, hardware, equipment and reliable everyday products. Since 1961, we've been the go-to destination in Everglades City, Copeland, Ochoppee, and Carnestown, FL as a complete general merchandise store and fishing supply store. We can supply you with a full assortment of products, from general merchandise and gifts to marine, fishing, and camping supplies. For products not carried in our hardware store, we're more than happy to special-order for our customers! Stop by to find what you're looking for, or to talk with our helpful staff about your needs.
We offer a wide range of supplies, from fishing and camping to marine and hardware.
We pride ourselves on customer service and always take the time to help you out.
Our pricing on must-have products is some of the best in the area. Come get great value!
We're the proud recipient of the Women's Building and Hardware Excellence Award.
We've got it all
You'll find just about anything on our gift shop shelves—from housewares and apparel to durable goods and hardware. As a marine supply store, we've also got camping and fishing gear, marine and RV accessories, and a full assortment of miscellaneous products for enjoying fun in the sun. We've also got apparel and gifts, as well as souvenirs and mementos from your time here in Everglades City, FL. Don't be intimidated when you walk into our store!
Satisfaction Guaranteed
You'll leave with exactly what you came for—and maybe even a few things you didn't realize you needed until you were here!
Our gift shop and general store firmly believes in customer satisfaction. Whether we're serving our friends and neighbors here in Everglades City, FL or passersby and visitors to the area, turn to us for the products you need and the treatment you deserve. We look forward to seeing you soon!
Your Friendly, Convenient General Merchandise Store
Whether you're passing through Everglades City, FL in an RV, getting ready to board a boat or you live in the area, we invite you to stop by Win-Car Inc Gifts and Hardware. We're a general merchandise store and marine supply store with a huge selection and plenty to choose from, no matter what you might be in the market for! Whatever it is, count on our friendly staff to help you find it. We can even special-order products we don't have readily available in stock. We're committed to your satisfaction—we guarantee a positive experience when you stop by our general store!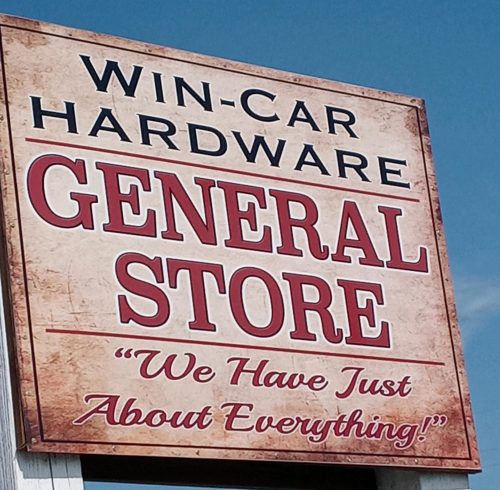 Your Source for Supplies
When you need goods, gifts or general merchandise, stop by Win-Car Inc Gifts and Hardware to find what you're looking for. We'll make sure you leave with what you need, as well as a smile! Our hardware store and fishing supply store has been a staple in Everglades City, Collier County & Dade County FL since 1961. Contact us now.